Appeal to save quarrymens' Cwmorthin terrace, Blaenau Ffestiniog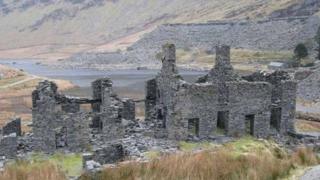 A campaign is under way to save a terrace of dilapidated former quarrymen's houses from collapse.
Cwmorthin Terrace, known locally as Tai Llyn, fell to ruin after the demise of the slate industry in the valley near Blaenau Ffestiniog, Gwynedd.
Local groups Cofio Cwmorthin Remembered and Antur Stiniog are preparing an application for a £100,000 grant.
They are also trying to raise £4,800 by the end of the year for urgent repair work.
Cofio Cwmorthin Remembered is cataloguing the history of the former community, and Antur Stiniog (Ffestiniog Venture) develops outdoor activities.
They have contacted the Heritage Lottery Fund (HLF) and are in the process of preparing an application for £100,000.
'Magical place'
The money, if approved, would pay for repairs to stop the ruins deteriorating further.
However, a second, more urgent appeal has also been launched.
Ceri Cunnington, of Antur Stiniog, said: "The application is going to take so long, we realised some of the buildings might not make [it through] the winter."
It is appealing for donations to raise £4,800 before the end of the year to cap the walls with cement and help preserve Tai Llyn (Lake houses).
Mr Cunnington said: "These are very important buildings for the local area and we want to try and save them.
"It's a magical place."
Tramway
It is thought Cwmorthin was once home to about 200 families with the original terrace built about 1860.
The once booming industry helped shape the landscape and economy of north Wales in the 19th and early 20th Centuries.
Welsh slate is famed for its strength and the ability to split it finely, resulting in lighter slates.
North west Wales is recognised as the area producing the best product, and the Blaenau Ffestiniog slate belt is one of two main strips in the region.
However by the 1940s the industry had declined and the community was abandoned.
If the HLF grant application is successful, the groups plan to secure the buildings and restore an old tramway so people can walk around the site to learn more about it.
Mr Cunnington said: "We will definitely open it up for tourists but the main purpose is to preserve the dwellings."
HLF confirmed it was working with the groups, which it said are in the "very early stages" of the application process.