Ogwen Valley warning after Carnedd Dafydd peak rescue in storm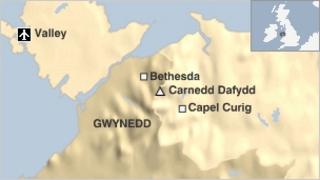 Mountain rescuers were called out to help two men who had become disorientated on a ridge in Snowdonia at the height of Monday's storm.
The rescuers renewed a warning for walkers and climbers to prepare properly and pay heed to the forecast.
Conditions were so bad that an RAF Valley helicopter was initially unable to help.
The men from the Wirral had been involved in a challenge to climb 15 Welsh peaks in 24 hours.
They were rescued between the 3,400ft (1,000m) peak Carnedd Dafydd and Carnedd Llewelyn.
A search party on foot was able to locate the men in the early hours.
'Incredibly frustrating'
One was unharmed and the other had a slight knee injury, which it is believed he sustained before embarking on the climb.
Chris Lloyd of Ogwen Valley Mountain Rescue said: "We're all volunteers who freely give up our time, so we shouldn't and aren't complaining about being called out, but it is incredibly frustrating when people put themselves in unnecessary danger.
"Thousands of people enjoy the Welsh mountains every year, and it can be very safe if you take the right precautions.
"Ensure you have appropriate warm clothing, detailed maps, a fully-charged mobile phone, make sure you're familiar enough with the area to cope if the light fades, and check regularly for weather updates."
The two men in their 30s were apparently experienced and had recently completed The Three Peaks Challenge, and were attempting the Welsh 3,000, an ascent of all 15 Welsh mountains above 3,000ft inside 24 hours.
They called 999 at about 04:00 GMT but afterwards rescuers were unable to raise them on their mobile phone.
Two groups of four volunteers combed the mountain and discovered the men taking shelter around 150 yards from where they had originally rung.
They were led back below the level of the storm clouds, from where they were taken to safety by the search and rescue helicopter.