Blind Veterans UK charity aims to reach thousands in need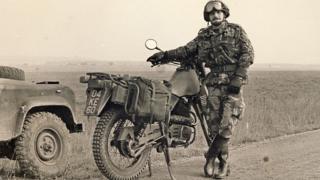 A Llandudno-based UK charity is warning that there could be 68,000 blind former servicemen across Britain who may need their services, with up to 6,000 in Wales.
Blind Veterans UK cares for soldiers, sailors and airmen with a visual impairment, whether developed through their service or subsequently.
It has centres at Sheffield, Brighton, and the largest at Llandudno.
The charity aims to raise the number it helps to 10,000 over the next 10 years.
Around 4,000 veterans have already been helped by the charity, which aims to hit the 10,000-mark with its "No-one alone" campaign.
Former army staff sergeant Billy Baxter was one of the Llandudno centre's first veterans in 2000.
He became blind in 1997 after contracting a virus whilst exhuming a mass grave in Bosnia.
His wife Karen said that before he accepted help her husband was "very, very angry".
"Everything me and the kids did he would snap at us for. I had had enough and was ready to pack my bags and leave him," she said.
But 13 years later their marriage is once again strong, and Billy is working two jobs, including helping to rehabilitate other blind veterans in Llandudno.
'Climbed mountains'
He said: "I have no doubt that I'd have killed myself sooner rather than later if it hadn't been for Karen dragging me along to Blind Veterans UK.
"I literally owe them my life, and so the very least I could do is put something back.
"Before the virus I climbed mountains and rode motorbikes, afterwards I couldn't find the loo on my own.
"The guys we have through the door are exactly the same, they don't believe that they'll ever be able to do anything for themselves again.
"When I meet them at induction and show them round, I don't tell them at first that I'm blind too - I let them figure it out for themselves.
"But once I explain that not very long ago I was exactly where they are now, it gives them the hope that no amount of encouragement from sighted people can."
In 2004 Billy appeared on the BBC TV series Top Gear as its "Star in a Reasonably-Priced Car" where he was guided around the track by a nervous host - and Blind Veterans UK patron - Jeremy Clarkson.
Billy's time of two minutes and two seconds beat that set by both Terry Wogan and Richard Whiteley.
He is also the guide for the midnight ghost tours of Bodelwyddan Castle.
But while Billy has been something of a trail-blazer for the charity, Llandudno centre manager Mark Lovatt explained that, for some, much smaller achievements are just as much of a success.
"The needs of visually impaired veterans differ considerably from those of people who lose their sight in civilian life, and the services provided by local authorities often aren't appropriate and/or sufficient," he said.
"As well as the sensory disability, amongst those who are injured in the line of duty there are frequently associated issues of physical injury and post traumatic stress disorder (PTSD) which can hamper them coming to terms with their sight-loss.
"But the majority of our clients are older people who lose their sight through natural ageing, and for them being able to cook a meal again, feeling a tactile version of a picture of their grandchildren for the first time, or learning to use a computer can bring massive improvements to their lives.
"That said, this month we had a 96-year-old Second World War Veteran, and all he wanted to achieve by the end of his stay was to go down the zip wire [in nearby Snowdonia]… it's the highest and longest in north Wales."