Snowdonia mountain warning as days darken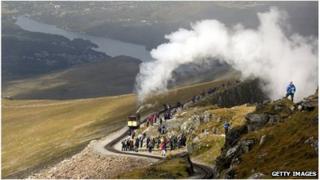 People planning to go walking in Snowdonia as the half-term holidays approach have been warned to be prepared for the dark.
MountainSafe, which represents rescuers and other agencies, said people were getting caught out as nights drew in.
A group of 30 walkers recently needed help from mountain rescue teams when one of them got injured after dark.
One warden said many did not consider the length of their journey before starting and did not carry torches.
Dewi Davies, Snowdonia National Park senior warden, said: "Lack of preparation is the reason behind the majority of calls to rescue teams at this time of year.
"Walkers don't consider the length of their journey before starting and they don't consider that it gets much darker earlier these days.
"They don't have a torch or a torch that's working and relying on a mobile phone isn't a good idea either."
In the recent incident, the group of walkers did not begin their ascent of Snowdon from Llanberis until 14:00 BST.
Mountain rescuers were called out at 21:30 BST when one of the group injured an ankle while coming down a rocky path in darkness.
When rescuers arrived, they discovered not all the group had torches with them.
MountainSafe has issued a five-point checklist for walkers:
prepare carefully - carry a map and compass, food and drink, whistle, fully charged phone and working torch
plan the route - check how long the journey will take and know what time darkness falls
check local mountain weather forecast - turn back if the weather gets worse
dress appropriately - strong boots, several layers of clothing including warm gloves, hat, and waterproof coat and trousers
be aware of ability levels - plan the trip according to fitness and experience of the group, not individuals.
British Summer Time ends on Sunday, when turning the clocks back an hour will make it appear dark earlier.
MountainSafe includes representatives from Snowdonia National Park Authority, North Wales Police, North Wales Mountain Rescue Association, the RAF, Llanberis Mountain Rescue Team and other agencies.