Wylfa B nuclear power station: Housing concerns for workers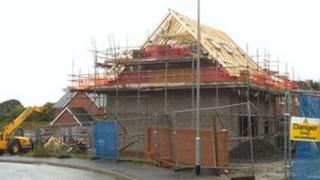 Talks will take place about how to ensure adequate housing for workers set to build a new nuclear power station on Anglesey.
The island's council said if the £8bn Wylfa B project went ahead, an extra 3,500 people would need somewhere to live while it was being built.
A third would stay in private rented property while others would buy new homes or use tourist houses, it said.
But there is a fear of price increases, making it harder for locals to buy.
Wylfa B forms part of the nuclear project Horizon which also includes proposals for a new nuclear power station at Oldbury, in South Gloucestershire.
Japanese company Hitachi bought Horizon for £700m a year ago after the two German companies behind the project - E.ON and RWE - announced they were pulling out.
Next year Horizon will hold a first phase of formal public consultation, with plans for initial site work to begin from 2015.
Major on-site work would start in 2018 with the first electricity being generated by the mid-2020s.
New houses are already being built on Anglesey - such as at Benllech - but Shan Williams, the council's head of housing services, said plans for homes for the nuclear project workers were still at an early stage.
"We will need to have more information from the developers," she said.
"We will be doing some work with private sector landlords and starting to build additional affordable housing on the island."
Many people on the island say local people need to come first whether it is for new homes, new jobs or the new power station.
But Anglesey council admitted it had to plan for a situation where workers came in from outside to avoid being caught off guard.
Housing boom
The island's assembly member, Rhun ap Iorwerth, said it was something which needed to be carefully managed and that many of the jobs that came up needed to be kept "as local as possible".
He added: "With the building phase, let's make sure that it brings money into the island but it doesn't leave us with a housing crisis - and there is a potential for that."
Dafydd Hardy, an estate agent working in Gwynedd and Anglesey, said the island was not seeing a house price boom yet.
But he agreed that it was a situation that needed to be handled carefully, because a housing boom meant homes would be harder for local people to afford.
"Any estate agent would agree with that, they don't want that," he said. "They want sustainability in the market.
"I think there is a concern with regards to protecting the prices for the local people because they need to have affordability and we don't want to see them priced out of the market."
One thing that officials had hoped could help was a proposed massive leisure park in Holyhead.
Developer Land & Lakes said the 800 holiday lodges and cottages could be used temporarily by Wylfa B construction workers.
But the plans were turned down earlier this month although that decision still has to be finalised in the next few weeks.