Dwyfor Meirionnydd MP Elfyn Llwyd to step down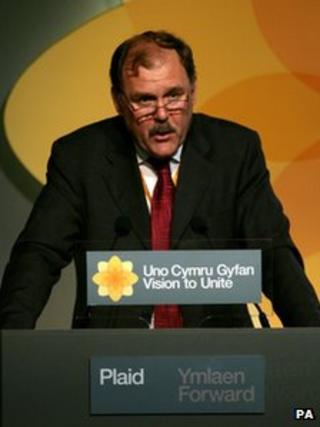 Plaid Cymru's parliamentary leader Elfyn Llwyd has announced he is stepping down as MP for Dwyfor Meirionnydd at the 2015 election.
Mr Llwyd, who has served in Westminster for 21 years, said it had been the highest honour to serve his constituency, party and nation.
He said the time had come to turn his hand to other work and other interests.
Mr Llwyd played a lead role in the campaign which brought about two new offences of stalking last year.
Plaid Cymru said the MP had also been a tireless advocate of veterans' rights and was one of the leaders of the campaign to impeach Tony Blair in the wake of the Iraq war.
'Loyalty'
The party added that Mr Llwyd had made a huge contribution to devolution and the constitutional future of Wales.
Mr Llwyd said: "I have decided not to put my name forward to seek re-nomination for the 2015 general election.
"I am hugely grateful to the people of Dwyfor Meirionnydd and Nant Conwy for their support and loyalty over the years.
"It has been the highest honour to serve my constituency, party and nation, but the time has come to turn my hand to other work and pursue other interests that I have.
"Playing a role in such an exciting period in the history of Wales and Plaid Cymru has been an absolute privilege.
"I have every confidence that the party will go from strength to strength and will continue to put the interests of the people and communities of Wales above all else."