Queen Victoria's gift stolen from Kinmel Hall, Abergele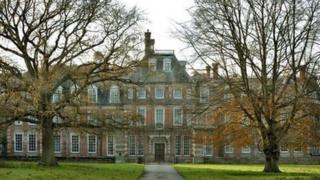 Carved wooden panels presented by Queen Victoria have been stolen from Kinmel Hall near Abergele in Conwy.
The monarch is believe to have stayed at the hall in 1870.
North Wales Police said the panels which were attached to a mantle above a fireplace were taken during a recent break-in.
Anyone with information is asked to contact police on 101 quoting reference RC13168889.
'Ripped from surroundings'
"These are of significant historical value and were presented to the hall by Queen Victoria," said PC Ian Condon from North Wales Police.
"The frames were attached to a mantle above a fire place, and have been ripped from their surrounding and removed from the building."
Last year plans were revealed to turn the mansion, dubbed the "Welsh Versailles", into a hotel.
The 122-room mansion had been acquired by an unnamed buyer after being put up for auction.