Walker dies after fall in Snowdonia's Ogwen Valley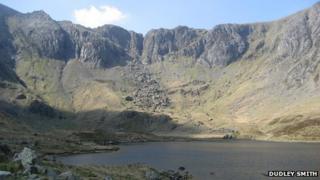 A walker has been killed after falling from a cliff at a well known mountain spot in Snowdonia.
The man, in his 30s and believed to be from the south of England, died after dropping up to 330ft (100m) from above Devil's Kitchen in the Ogwen Valley.
The alarm was raised by a party of five walkers in the area, who saw the casualty fall on to the path.
His body was recovered by about 20 members of the Ogwen Valley Mountain Rescue team, and airlifted to hospital.
The incident happened at about 18:00 BST on Saturday.
Mountain rescuers say the individual was an experienced lone walker who regularly visited the area.
"It is an unfortunate tragic accident," said Chris Lloyd, from the Ogwen Valley team.
"It looks as though this individual made a navigational error in low cloud, and walked off a cliff."
The mountain rescue team said it was clear to the walkers who found the man that the fall had been fatal.
His body was finally recovered by the rescue team at about 20:30, before being airlifted to hospital at Bangor by an RAF Sea King helicopter from 22 Squadron at RAF Valley on Anglesey.
Rock fall climber
Devil's Kitchen, or Twll Du (Black Hole) in Welsh, is a very well known route above Cwm Idwal in the Ogwen Valley.
It marks a tricky crack in rocks which can be scrambled up to reach the Glyder range of peaks and Y Garn.
The route can prove challenging for many walkers, especially if there is poor weather and mist, as the path through the rocks and cliffs is ill-defined.
It was the second serious incident of the day for the Ogwen Valley team, after an earlier rescue at Pen yr Ole Wen on Saturday morning.
A climber suffered life-changing injuries when a stone block collapsed, severing his leg below the knee.
The rock then fell some 500ft (150m) on to the A5 main road below.
Walkers in the area assisted the injured climber, until a party of 18 from the Ogwen Valley team arrived on the scene.
The climber was airlifted to a specialist unit in Stoke, where surgeons were attempting to save his leg.
"I think that is the first time with a mountain rescue that I have come across an incident like that," added Mr Lloyd, from the Ogwen team.