Film night 'drive-in' rural boost for Conwy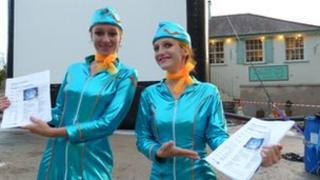 A project to help boost the night-time economy in rural parts of Conwy is hosting what claims to be north Wales' largest drive-in cinema event.
Up to 150 cars are expected at the screening of Disney's The Lion King II near Trefriw.
Organisers are setting up a 22ft (7m) screen for the Saturday evening event on fields at Nant Conwy rugby club.
The drive-in, run by the council's Goleuo project, follows a similar smaller project in 2011 at Conwy Falls.
The EU funded scheme has been running for three years and will come to an end next month, making Saturday's event one of Goleuo's last big ventures.
Iwan Williams from the project, which is Welsh for 'Enlightenment', said it was an opportunity to get people in rural parts of Conwy out into their communities.
"It's also about trying to get some money moving in those communities," he said.
"We've been holding events like this and smaller cultural events at pubs, restaurants and clubs, in a bid to stimulate the evening economy in rural parts of the Conwy borough."
The event is free - but on a first come, first served basis, with cars asked to arrive from 18:30 GMT for the start of the film at 19:00.
Money raised through a raffle and refreshments will go to a local nursery group, Cylch Meithrin Bro Cernyw.