Llangefni market's boost with traders involvement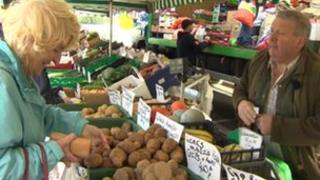 A market in an Anglesey town is thriving once more six months after local businesses stepped in to help run it.
Last October there were four regular stalls at Llangefni's twice-weekly market but this year there are 30.
Organisers say it is due to better management and there is scope to do more.
Other businesses are also reporting better trading on market days as more people visit the town.
Ian Ault, the chairman of Llangefni Social Enterprise and a cafe owner, said it was great to see the buzz of a large market again.
"I worked here 35 years ago and I can remember how fantastic the market used to be," he said.
"I can remember the atmosphere in the town, and the impact that had on the people."
Mr Ault bought a cafe in the town six years ago and said he was struck by how many of his customers were disappointed at the way the market - held on Thursday and Saturday - was in decline.
He said he jumped at the chance to get involved when Anglesey council approached traders in the town for help.
'Great mix'
"We took it on in April and watched it go from strength to strength and when it was at its peak during the summer we had 37 stalls here.
"Last year in October there were only four stalls, but today is October and we have 30 stalls.
"We've got a great mix here too, to appeal to customers."
Mr Ault said it was still early days and a lot of work needed to be done.
"For this to be sustainable then we need people to turn up on market days so that customers know there is going to be a market here.
"It needs everyone to work together for the benefit of everyone else," he added.
Long-term stall-holder Emyr Owen, the new market manager, said:"If you get together a proper mix of quality stalls then customers are going to come back.
"Business in the town are saying they have improved trading on market days as well."
An events organiser has also been employed and Llinos Fon Jones is organising a Christmas fair.
"The more people we can attract here the better it will be.
"Llangefni has a great community where a number of people are willing to work for the benefit of the town," she said.