Llandudno Junction memorials to WWII crash airmen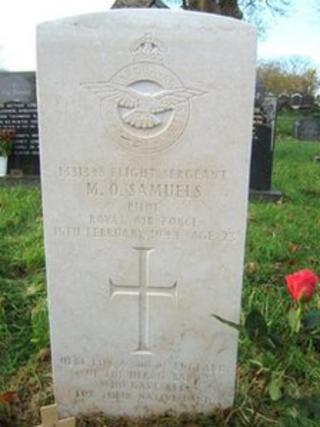 Memorials are planned to mark the deaths of five World War II airmen who died when their plane crashed in Conwy.
Deganwy historian Gwyn Hughes has been researching the incident after learning of the deaths almost 70 years ago.
Over the years he has interviewed eye witnesses and found archives to piece together details of the 1944 crash which he said was not well documented.
A memorial park is being opened at Llandudno Junction Community Club near to the crash site at Marl Woods.
And a separate plaque near the site and memorial service are also being arranged
"It's a tragic story," said Mr Hughes whose research published on the website of Deganwy History Group explains how the men had been on a flight to north Wales when they ran into difficulty.
The airmen, including three from Britain and two from Poland and New Zealand, were en route to a base at North Yorkshire - and due to return Mona Airfield, Anglesey - when the Avro Anson MK1 plane was seen in difficulty over Llandudno.
Mr Hughes explained how school children were among the witnesses that February afternoon in 1944 and they described loud noises and debris falling from the sky before the plane crashed.
"There was no explosion, just a thud," said Mr Hughes.
In his research he found medical officer's report said the crash was one day, while the graves of some of the airmen say it was another day.
Mr Hughes said this shows there was not a comprehensive report into the crash and he is at a loss to explain why.
The transcribed medical report says: "On the afternoon of the 16.2.44 the ambulance was called out to a flying accident near Llandudno Junction. On arrival there it was found that the crew of five were all dead and had been established as personnel from this unit. They were conveyed back to RAF Station Mona Sick Quarters Mortuary. Two of the funerals were carried out here, the rest elsewhere."
Over the years Mr Hughes has traced the families of three of the five airman and they will be invited to a memorial service due to be held next February.
A new plaque is also due to installed by Deganwy History Group near to the scene once permission is granted.
"There are people who still remember the crash," said Mr Hughes.
"Some have thought for years that we need to remember these men."