Wylfa nuclear reactor's end may be delayed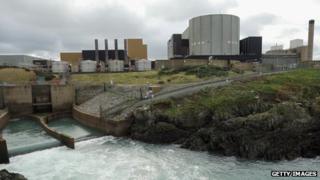 The planned shut down of Britain's oldest nuclear reactor may be extended by 15 months after its owners applied to keep it open until the end of 2015.
The 42-year-old Wylfa reactor 1 on Anglesey was expected to stop producing power in 2014 but it could now continue until the following December.
Magnox Limited has submitted a document to the Office for Nuclear Regulation (ONR) proposing to prolong operations.
The ONR said it would respond to the proposal.
Earlier this year, Magnox said it was considering extending the lifetime of the reactor as it wanted to ensure it maximised any electricity generating potential in the remaining fuel.
A periodic safety review, carried out every 10 years to ensure reactors are safe to run, has been submitted to ONR.
The 490-megawatt reactor has been operating since 1971 next to its twin reactor Wylfa 2, which permanently shut down in April 2012.
In August last year, the Nuclear Decommissioning Authority gave the go-ahead for a fuel transfer between the two Wylfa reactors that allowed Wylfa 1 to continue operating.
A site adjacent to the existing power plant has been earmarked for the construction of a new nuclear power station.
Japan's Hitachi plans to build two to three new reactors at the site.