Colwyn Bay promenade improvements move to next stage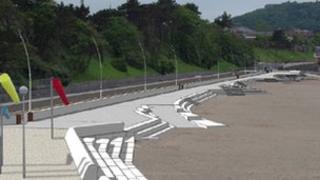 Plans for the next phase of a scheme to transform the promenade in Colwyn Bay are to be submitted to Conwy council.
Part of the council's Waterfront Project, including a water sport centre and beach, has already been built and was officially opened last month.
The next stage would see more sea defence work and promenade improvements.
A planning decision is expected by December and if granted, work would take around six months to complete.
A £5m Welsh government grant has been earmarked for coastal defence works.
The money would be used to import sand for the beach stretching from east of the pier to the eastern end to an area known as the Cayley embankment.
Repair work would be carried out to the existing sea wall, and the section of the promenade between Porth Eirias and the pier would be renewed with the promenade itself being raised and resurfaced.
Work would also focus on improving the links between the promenade and the town, particularly the area under the railway bridge opposite the pier.
"It is exciting to see the plans for the next stage of the Waterfront Project, which will provide vital protection for the town and promenade itself," said councillor Mike Priestley, Conwy council's cabinet member for highways, environment and sustainability.
"Also, having seen for myself how popular the recharged beach was this summer, I have no doubt extending it further, coupled with the promenade improvements, will provide a waterfront that residents can once again enjoy and be proud of."
He added: "The work on the town centre link will also allow the improvements being made on the waterfront to act as an economic catalyst for the town itself, drawing visitors from the promenade towards the town and vice versa."
An public information event will be held at Porth Eirias on 6 November between 10:00 and 19:00 and information will be available on the Waterfront Project later this week.