Anglesey abattoir site at Gaerwen up for sale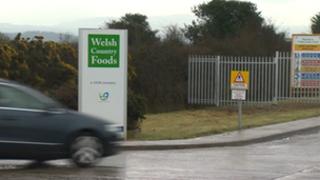 A mothballed abattoir site on Anglesey is to be put up for sale after its new owners said it was not suitable for their needs.
The former Welsh Country Foods plant at Gaerwen closed in April with the loss of 325 jobs after previous owners Vion sold the site to 2 Sisters Food Group.
The factory had processed 640,000 lambs, making it the largest site of its kind in north Wales.
2 Sisters Food Group said it had taken the decision following a review.
The company took over Vion's sister plant in Llangefni, where it has expanded its chicken processing operations.
In a statement, 2 Sisters said: "We've undertaken a full and detailed internal review of the site and unfortunately it doesn't meet our future operational requirements.
"Therefore, the building will be put up for sale in the next few weeks."
Paddy McNaught from the Unite union said there had been rumours the site would go back on the market.
"Hopefully the people that showed an interest previously will re-look at the site," he said, adding an unnamed Irish company had previously been linked to a takeover.
He said the closure had meant farmers now had to take their lambs for processing to Preston in Lancashire or Newtown in Powys.
If the site reopened, it would represent a "substantial amount of new jobs" which would "mean a great deal to the people of Anglesey," Mr McNaught added.