Conwy dog walkers 'intimidated' by enforcement company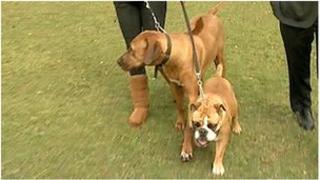 A group of dog-walkers have accused a company contracted to enforce Conwy council's dog control bylaws of intimidating behaviour by staff and not providing enough information signs.
Kingdom Security hand out fixed penalty notices for fouling and failing to keep dogs on a lead throughout the county.
The group has collected about 1,000 signatures for a petition which they will hand to councillors later.
Conwy council said it would consider the issue in due course.
The group is also objecting to the nature of the contract, which awards bonuses for each fine delivered.
Tony Costa, who organised the petition, said that whilst nobody objected to attempts to clean-up parks and beaches, Kingdom were targeting the wrong people.
Of around 1,000 fines handed out, 954 were for litter, only three were for dog fouling and 22 were for not controlling dogs or walking them in prohibited areas.
"The areas change constantly, and there's no signs to warn you what is a prohibited area," said Mr Costa.
"It's clearly got nothing to do with making public spaces cleaner or safer, and everything to do with trying to catch out responsible dog owners in order to make money out of them."
In a statement Conwy council said they were aware of a complaint against one of Kingdom's officers, but they stood by their contractor's work.
"Kingdom fulfils a very important function, in partnership with our own enforcement officers who work to a very high and professional standard, and Kingdom staff are trained to operate to the same high standards," a spokesperson said.
Kingdom said they had nothing to add to the council's comments.