Drinking water 'not at risk' from Mynydd Llandygai leak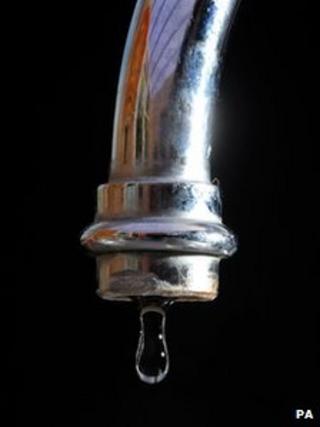 Drinking water was never at risk when aluminium leaked from a waste tank at a treatment plant in Gwynedd, Dwr Cymru Welsh Water has said.
It admitted breaching permit conditions at the Mynydd Llandygai works near Bangor and received a conditional discharge with £1,800 costs.
A faulty valve allowed waste - which contained higher levels of aluminium than permitted - to leak.
Welsh Water said customers were not at risk "at any time".
The company was prosecuted by Natural Resources Wales (NRW) and admitted the breach at a hearing before Caernarfon magistrates on Friday.
No environmental damage
After the case a Welsh Water spokesperson said: "As part of our routine sampling process, we identified that a valve on a tank designed to hold sludge at Mynydd Llandygai water treatment works was leaking.
"This enabled a small amount of the waste by-product or sludge, which contained levels of aluminium that were higher than permitted, to go into the local watercourse."
Welsh Water said it immediately notified NRW and no environmental damage was caused by the incident in August 2012.
The spokesman added: "It is very important to note that this issue related to the waste part of the water process.
"It did not relate in any way to customers' drinking water and there was no risk to customers' drinking water at any time."
In August 2008, Welsh Water customers in Bangor and parts of Anglesey were warned to boil drinking water after cryptosporidium was found in the Mynydd Llandygai works.