John Wood jailed for robbing student on Bangor golf course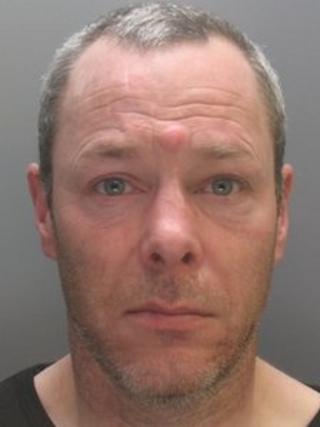 A man has been jailed for five years for the night-time robbery of an amateur astronomer at knifepoint on a golf course.
Malaysian student Sirofum Mustaqim had set up his telescope on Bangor golf course when he was robbed by John Wood.
Wood, 46, who had just been released from prison, denied robbery, claiming it to be a case of mistaken identity.
But a jury at Mold Crown Court convicted Wood, of Llanllechid, near Bangor, of the attack in April.
The court heard that Wood approached Mr Mustaqim, a Bangor University student, at 23:00 BST on 16 April claiming to be homeless and asked him for money.
The court heard Mr Mustaqim had set up his telescope on a tripod in a dark area on the golf course to search for a particular planet.
The student was persuaded to go into his wallet and give him £2 but when Wood saw that he had notes he produced a knife, which he pointed at Mr Mustaqim's face.
The court was told that Wood stole £10 before telling Mr Mustaqim to run, warning that he would kill him if he told the police.
Judge Niclas Parry said that the victim went out on a dark night to the remote location to follow a worthwhile pursuit.
He told Wood: "You saw him, alone and vulnerable, and you went for him.
"He showed you every kindness and decency - he was prepared to take you to a shop, but you utterly disregarded that and produced a knife which you pointed at his face.
Dishonesty
"You take his money and beat him over the head. He staggered but he was not injured. You then threatened to kill him if he reported the matter."
Judge Parry said Wood had an appalling list of previous convictions including robbery and other offences of violence and dishonesty.
"You were released from prison just days before you committed this offence," the judge added.
Maria Massellis, defending Wood, told the jury her client insisted that he was simply not involved at all.
After the court hearing, North Wales Police said Wood was arrested two days after the robbery after a photo-fit image was released of him.
Investigating officer Det Con Karen Pritchard-Williams of Bangor CID said: "It gives out a strong message that such knife crime and violence will not be tolerated by North Wales Police.
"On the night of Wood's arrest, the victim worked with police into the early hours of the morning, resulting in the defendant's charge, remand and subsequent conviction.
"This positive result is largely down to his co-operation with police and I thank him for this."