Island planners recommend Penrhos holiday park go ahead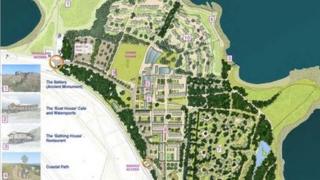 A controversial holiday park development at Holyhead has been recommended to go ahead by planners on Anglesey.
The company, Land and Lakes, want to put up 500 holiday cabins on land at Penrhos Coastal Park.
As part of the outline plans, a further 315 lodges at Cae Glas would be built to house workers if a new nuclear power station is built at Wylfa.
The project has met with strong opposition from some island residents.
A petition of 1,200 names against the development has been gathered, and another petition of more than 800 names sent to the Welsh government.
Objectors also included the charity, the Campaign for the Protection of Rural Wales, which notes that the development sites all fall within a designated area of outstanding natural beauty.
Others warn that the development could impact on public services, and the Welsh language in the area.
The Penrhos Coastal Park is owned by Anglesey Aluminium, which ended metal production at its nearby factory in 2009 with the loss of 400 jobs.
It signed an agreement with Land and Lakes to develop part of the park as a holiday destination in 2011.
'Economic opportunity'
Under the proposals now being considered by Anglesey council, 50 hectares of the 80 hectare park would be turned into the holiday village.
The remaining space in the park would be open to the public, including 15 hectares of woodland, and access to the coastal path and beach.
In a report to councillors, the island's economic development unit said: "The Land and Lakes development is an opportunity to transform the economic, environmental and social composition of Holyhead and the surrounding areas, which given the current economic climate is extremely positive and very much welcomed."
In addition to the holiday lodges at Penrhos and the development at Cae Glas, a further proposal is to build 360 homes at Kingsland in the town.
These would also be used to house construction workers for a new Wylfa power station, before later becoming permanent homes for Holyhead.
Council planners state that the developers would have to contribute to the cost of providing new facilities in the town to meet the demands placed on public services - including the possible need for a new primary school.
Councillors will debate the outline application at a meeting on 2 October.
Officers have recommended that the plans are referred to the Welsh government for a statutory three weeks, with a further recommendation to the government that the authority is "minded to permit the planning application".