£1.7m Coed-y-Brenin forest bike centre opened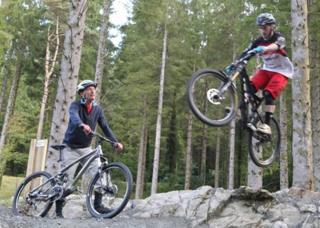 A Gwynedd forest has cemented its place as a world-class mountain biking destination with the official opening of a new £1.7m extension.
The new buildings at Coed-y-Brenin near Dolgellau almost double the size of facilities at the forest, including a new bike shop and hire centre.
Outside, a new beginners bike skills section has been developed called Y Ffowndri (The Foundry).
It is being opened by Culture and Sports Minister John Griffiths.
"These world-class facilities in the heart of Snowdonia help showcase the fantastic landscape we have in Wales for responsible outdoor recreation," said the minister.
"Visitors to Wales cite the natural environment as the primary reason for their visit, and the contribution to the Welsh economy of outdoor recreation, particularly in rural areas, mustn't be underestimated.
"Improving access to the outdoors clearly has the potential to benefit Wales greatly."
The new buildings at the forest site have come from timber sourced entirely at Coed-y-Brenin itself.
The centre now makes up one of four sites known as the Snowdonia Centre of Excellence, a £4m project backed through EU funding and the Welsh government to develop outdoor activities throughout the year.
'Grand scale'
Managed by Natural Resources Wales, previously the Forestry Commission, the new extension offers round the clock access to the mountain biking attraction.
Y Ffowndri skills centre is aimed at newcomers, to help equip them with the bike skills before heading out onto the the bike trails, which range from beginner sections to 'severe' black routes, with names like 'Beast of Brenin' and 'Tarw' (Bull).
On his visit to the forest, the minister is also officially opening the the latest trail, called MinorTaur, which is an intermediate route that can cater for individuals with disabilities.
Tim Jones of Natural Resources Wales added: "We are committed to providing people with opportunities to access our countryside and to lead more active lifestyles and Coed-y-Brenin delivers on a grand scale, as the visitor numbers demonstrate.
"In addition to nurturing the well-being of people drawn to this wonderful location in the heart of Snowdonia, we must not overlook the important support that Coed-y-Brenin provides for the local economy as many of these visitors take advantage of the warm hospitality on offer in the area."