Beaumaris flood relief plans go on show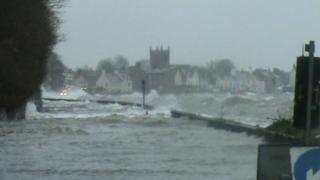 Flood relief plans will help residents in an Anglesey town "sleep at night" if they get the go ahead, a community leader said.
Beaumaris has been hit in recent years due to a mix of heavy rain running down the hillside as well as high tides.
Anglesey council has drawn up £1.3m plans which include new sea walls and a natural lake to hold rainwater, although nothing has been finalised.
The town's flood warden said he hoped the proposals would come to fruition.
Anglesey County Council is putting the plans on show at Beaumaris town hall on Tuesday from 12:00 to 20:00 BST.
They include a new sea wall and a reinforced bund or embankment along the front, taking into account concerns that it should not compromise the view over the Menai Strait.
The proposals also include the creation of a natural lake to hold rainwater from fields and homes as it comes down to the town behind Beaumaris Castle before being allowed to drain away.
'Fantastic'
Beaumaris chief flood warden Jason Zalot said: "People will be able to sleep at night knowing that things are getting done."
The town councillor, who also helps to run a family leisure boat business, said the plans had been drawn up using computer models showing how and where rain and sea water affected the town and how both could be best tackled.
"It should stop 99% of flooding in the town," he said. "It's fantastic."
Mr Zalot said Beaumaris was flooded in the 1950s and 1980s before the problems began to recur in the past two decades.
Last December, bad weather and a high tide caused flooding and closed the town's main A545 road and damaged Beaumaris pier.
Anglesey council has submitted an application for funding to the Welsh government to finance its flood alleviation project.
The proposals still have to go to the council for formal approval once the public has had its say.