'Oldest' co-op pub Tafarn y Fic celebrates 25 years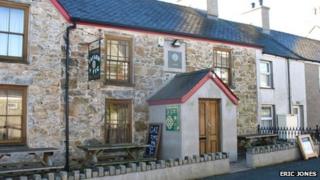 A pub that claims to be Europe's oldest co-operatively run village pub is celebrating a quarter of a century as a community business in Gwynedd.
Tafarn y Fic at Llithfaen on the Lleyn Peninsula has been run by villagers since 1988.
It is currently the focus of a Wales-wide campaign to help raise awareness of social enterprises.
Celebrations on Saturday included a concert with some of Wales' best known Welsh language acts.
Bleddyn Jones, a Tafarn y Fic director, said: "There is no doubt Tafarn y Fic has given confidence to the whole area.
"Seeing a Welsh business thriving is encouraging for people and there is a great deal of goodwill in the area towards what's happening here.
"As a social enterprise the pub's key focus is to serve its community, both socially and economically, ensuring all profits are reinvested to improving the pub's facilities and supporting local projects and neighbouring businesses."
Tafarn y Fic is currently being featured in Go Full Circle, a campaign being run by the Wales Co-operative Centre to highlight the vast and varied nature of social enterprises in Wales.
"Raising awareness of the existence and contribution of social enterprises and co-operatives like Tafarn y Fic in Wales will be key to increasing their number, sustainability and growth in the future," said the centre's chief executive, Derek Walker.
"The aim of Go Full Circle is to promote the benefits of social enterprises in Wales, highlighting their widespread offerings and encouraging consumers across Wales to recognise that using social enterprises can benefit themselves and local communities.
Backing Welsh bands
"Research shows that, while generally there is a good level of support for social enterprises, not enough people actually understand what they are or how they operate.
"Support for social enterprise is there but more must be done to increase understanding among the public."
The Fic has been a longstanding venue for Welsh language music in the area, and its birthday celebrations were marked by a concert starring artists that have supported the pub over the last 25 years.
They included folk singer Meic Stevens, singers Tefwyn Ifan and Geraint Lovegreen, and the folk-rock band Cowbois Rhos Botwnnog.
John Llyfnwy, who has served on the management board of the pub from the start, said: "A quarter of a century ago, it was very rare to have a pub providing an evening of free entertainment in Welsh for its customers.
"The Fic was the first in the area to do this and it's good to see others following our example by now, ensuring enough Welsh language bands perform regularly."