College exam for Zoe Roberts two days after giving birth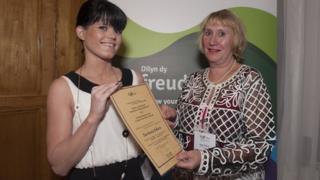 A mother has been recognised by a college award after taking an exam just two days after giving birth to her third child.
Zoe Roberts, 23, from Caernarfon in Gwynedd, was described as "inspirational" for her determination to complete her course at Coleg Menai.
After giving birth to son, Harvey Edwards, she sat an exam for her diploma in social science.
She has now been accepted onto an Open University social worker degree course.
"I was determined to sit the exam because I knew how important it was," said Zoe, who has also secured a job as a support worker for Gwynedd council's social services department.
"Harvey's timing wasn't great because he was five weeks early, but I used him, Tylor and Sophea (her other two children) as inspiration because I want them to grow up knowing the importance of education and realising that hard working can be rewarding."
Dream 'fulfilled'
In recognition of her efforts, she was named as one of 36 students at the college to be receive a 'Celebrating Success' award for academic achievement.
"I must thank Coleg Menai for the support they gave me - they helped me fulfil my dream," she added.
"They helped pay the child care fees which I just couldn't afford, and the qualification has already helped me get a job."
Congratulating Zoe and the other successful students, college principal Dafydd Evans said: "The college is proud to reward these inspirational students who have shown exceptional dedication.
"Their achievements are down to hard work and sacrifice and I am delighted to recognise their extraordinary and inspirational efforts."