Go-ahead to fell trees in a forest home to red squirrels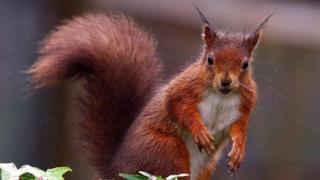 Controversial plans to fell trees in a forest which is home to red squirrels on Anglesey have been given the go-ahead.
Natural Resources Wales said a small part of the forest would be removed to help rare plants and animals.
Many of the trees to be cleared are said to be dead or stunted.
Some campaigners had claimed ministers have reneged on pledges for a scientific consensus on any changes to the woodland.
Red squirrels were reintroduced at the site in 1998, and the management plan has been discussed over the past 10 years.
'Misleading'
As well as the squirrels, the plan includes the long-term management of dune habitats and species, and the changing shoreline under climate change scenarios.
A public meeting was held in Newborough last Thursday to consider reporting the Welsh government for allegedly failing to meet its commitments.
Residents had claimed the Welsh government is preparing to ignore EU conservation rules by allowing Natural Resources Wales' proposals to fell trees before a promised independent scientific review was completed.
At the time the Welsh government said the claims were "misleading".
Anglesey is one of only three areas in Wales with red squirrels.
'Bigger picture'
Independent research scientist Dr Craig Shuttleworth said there had been a "failure of process" in the way the plan had been put together.
"We're not getting the full picture. Squirrels do use this area. If the trees are removed what happens to the trees behind... do they die or fall over in the wind?
"We can't see the impact of what will happen without looking at the bigger picture.
"'We should have had this agreed and done-and-dusted years ago - we should be talking hard facts by now, not still have questions."
Commenting on on the announcement of the tree felling, Tim Jones from Natural Resources Wales said: "We have made major changes to our earlier plans after lengthy consultations with local people and specialists.
"Helping the landscape take on a more natural appearance will not only help wildlife but it will also enhance the beauty of an area which is hugely valued by local people and the more than 170,000 visitors it attracts each year.
"Local people can continue to enjoy walks in the forest, the local economy can potentially benefit from tourism while wildlife in the forest and dunes is improved."