Two churches in Bangor chosen to close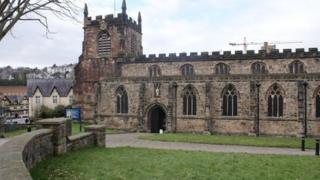 Two churches in Bangor have been selected for closure because smaller congregations and high running costs mean they are not economical, a report has found.
The Bishop of Bangor, the Right Reverend Andrew John, admitted closing St David's and St Mary's would bring sorrow and sadness to some.
But he said the move would strengthen the church as a whole.
About 170 people worship at services in Bangor's five churches each Sunday.
Last year a Church in Wales review said 'radical plans to reform and modernise' were needed for the future.
The Bishop of Bangor said a decline in the number of worshippers, and the need to save money, had prompted a review of how local church buildings were being used.
Under the plans, Bangor Cathedral will be used as a "parish" church for congregations from St Mary's and St David's which are both within a mile-and-a-half (2.5 km) of the cathedral.
"We accept and recognises that these recommendations will bring sorrow and sadness to those people at the churches involved," the bishop said.
"But these people are being invited to come together to worship in the cathedral each Sunday and we will be stronger for being together."
He said costs will be "significantly reduced" by closing the two churches, especially in insurance and running costs, and the changes will mean the the cathedral building - which costs £12,000 a year to heat and light - will be used better.
"My belief is that this will better position the church for the future to meet the needs of the community and the needs of the various ministries," he added.
The report was put together by the Archdeacon of Bangor, the Venerable Paul Davies.
It was the third report into the future of churches in Bangor since the 1960s and each had recommended closing the same buildings, he said.
A legal process has to be undertaken before the changes can go ahead.
Afterwards, steps will be taken to make ensure the congregations from the two closed churches will not "drift" away from the church.
One idea is to buy a bus to transport people to the new place of worship.
Parishioners will be asked how they would like to see the closed churches used.