Holyhead rugby club's 181-0 thrashing to Llanidloes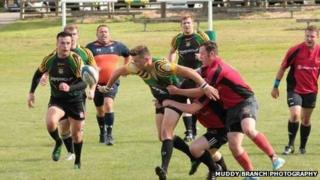 An Anglesey rugby team's 181-0 defeat - believed to be a Welsh record - could turn out to be a blessing in disguise according to the club's president.
Holyhead shipped 29 tries and conceded a point every 26 seconds on average to Powys team Llanidloes.
But perhaps the result is not so surprising considering Holyhead had only 11 players for much of the game, with another two turning up later.
President Oliver Williams said it may be the wake-up call the club needed.
"I think we'll look back on this result at the end of the season and realise it was a blessing in disguise," he said.
"Coming like this right at the start of the season, it's going to give a few people some food for thought.
"If we'd have had a 60 or 70-point drubbing then we'd have probably papered over the cracks, but things need to change now.
"Plus they say all publicity's good publicity, and now we're all over the papers and the internet then who knows, maybe we'll attract some more interest and new players."
The story has already drawn an offer of support from the man tasked by the WRU with developing rugby in north Wales, former Wales scrum-half Rupert Moon.
As news of the result in Swalec Division Three North spread on Saturday night he tweeted to offer help with coaching, an offer which Mr Williams said Holyhead would be only too glad to take up.
But player absences also played a big part in the defeat which Mr Williams put down to a number of reasons, some understandable and some less so.
'Too hungover'
"Llanidloes is much closer to Cardiff than it is to Holyhead so for us to get a team out to travel down there is a major undertaking," he said.
"At midweek training we had 20 players who said they'd be able to make the trip. Some of them had to pull out because they're on shift work and zero-hours contracts... and we understand that.
"At the end of the day we're an amateur club who don't pay a penny and these boys need to keep their jobs and earn a living.
"But also I believe there was a birthday party on Friday night and the reason that at least some of the lads didn't make the coach at half-past eight on Saturday morning was because they were simply too hungover. That we can't understand and we won't tolerate."
Yet Mr Williams was full of praise for the players who did make the effort.
'Team spirit'
"People can take the mick if they like - we've had a lot of leg-pulling amongst ourselves - but the fact of it is that those 13 boys put in an heroic display," he said.
"Most of them were youth team players drafted in that morning up against big farming lads from Llanidloes.
"But they never stopped tackling, never let their heads drop, and they showed team spirit which puts those so-called players in bed with their hangovers to shame."
Their opponents were equally impressed by Holyhead's refusal to lie down. Llanidloes vice-chairman Simon Morgan told the Daily Post newspaper: "It was a staggering result. The boys played exceptionally well but Holyhead never stopped going. They ran and ran and ran."
The WRU said it believed the 181-0 result was a Welsh record.
Holyhead are no strangers to struggle, in the last two seasons finishing 10th and ninth in the 12-team division.
And it does not get any easier for the team, with the next fixture a visit from last year's league runners-up Llangollen.