Call for Victorian colonnade in Llandudno to be maintained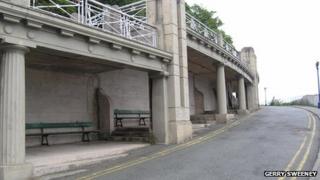 A voluntary group is calling for more maintenance of a listed colonnade in Conwy so it can be used to host events.
The Grade II-listed Victorian structure features a series of arches near the Happy Valley park on the Great Orme headland in Llandudno.
Friends of the park want to host craft fairs and school groups there.
Conwy council said the building is regularly maintained and any outstanding issues will be resolved.
The colonnade was built as a kind of "work creation" project according to Friends' chairman Gerry Sweeney, who said it would be ideal to host events, if spruced up.
It is on the way up the Great Orme on the way to the Happy Valley public park, which is also Grade II- listed.
Clearing
The park was created on land belonging to Lord Mostyn who in 1887 dedicated it to the town of Llandudno in honour of Queen Victoria's Golden Jubilee.
"The colonnade has suffered a bit of vandalism. All the lights were stripped out and the drains - which are just gullies really - regularly get blocked up," said Mr Sweeney.
"We have been clearing them, but it needs the council to do more regular maintenance," he said.
Mr Sweeney added it was the right time to get to grips with the problem as there was some "seepage" through the roof of the colonnade which also carries a footpath.
"Unless this small bit of work is done then it will become a big problem," he said.
School parties
The Friends are keen to run events such as craft fairs under the arches as an added attraction to the park.
"It would be ideal to hold the craft fairs there because they would not be spoilt by rain and it's really nice when it's sunny too.
"Another use could be for school parties - because loads come to the town - and there is nowhere for them to sit and eat their packed lunches if it's wet, or if they need to get away from the seagulls," he added.
A spokeswoman for Conwy Council said: "The assertion that Happy Valley receives little in the way of drain clearance or cleansing is incorrect.
"However, weeds in the channels, highway and overhanging foliage from private property are not particularly welcoming. These issues will be looked into and resolved.
"The drains were cleared last in late 2012 and graffiti was recently cleaned from the colonnade within 24 hours following a request, and litter is regularly cleared," she added.