Maritime museum building in Caernarfon to be turned into toilets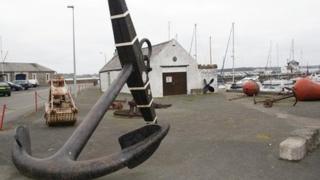 A building which housed a Gwynedd town's maritime museum is to become a toilet for boat owners.
The volunteer-run Seiont II maritime museum at Victoria Dock, Caernarfon, closed last year due to running costs.
Gwynedd council took responsibility for most of the artefacts but loaned items were returned to their owners.
The conversion will also install showers and washing facilities although boat owners fear the building will not be big enough to meet demand.
When the museum closed last year the trust which ran it blamed the closure on running costs and being unable to bring in enough revenue.
At the time the trust chair said insurance costs alone were £1,000 a year, compared with £200 in revenue from admissions.
It was last opened to the public during the summer of 2010.
Gwynedd councillors voted to back the plan to convert the old museum into facilities for the use of the dock's boat owners during the council's planning committee meeting on Monday.
Half of the building will also become a workshop.
Despite being surrounded by listed buildings, which includes the grade II listed Caernarfon Sailing Club and the Victoria Dock itself, which is listed, the museum's home is not listed by heritage body Cadw.
However, the planning report added the building was "a vital part of the development of the dock at the end of the 19th Century".
Developing it into facilities for boat owners would also mean the "eyesore" of temporary facilities, which are currently located next door, will be removed, the report said.
Letters of objection had been received by the council from boat owners, who said they had not been consulted.
Some thought there could be up to 400 potential users and the refurbished building would not offer enough facilities.
Some felt too that it was unacceptable that the building is shared between the genders.
Caernarfon Town councillor and former town mayor Hywel Roberts said the old museum could not carry on because there were not enough people to run it.
"I'd like to see a heritage centre in the town, which could have displays on all the town's heritage including its maritime history," he said.
"The only concern I have for the new facility is that it might not be enough for the number of boats in the dock, because it's pretty full at the moment."
A Gwynedd Council spokesman said the planning application for converting the building was backed subject to conditions.
These include removal of the temporary toilets.