Menai Seafood Festival aims to boost local business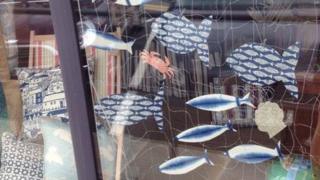 A new food festival on Anglesey aims to get people to eat seafood caught or farmed off the shores of north Wales.
It follows the creation of an action group to support fishing businesses in the region.
The Anglesey and Gwynedd Fisheries Local Action Group (FLAG) will promote the sustainable development of fisheries in north Wales and boost sea-related industries.
The Menai Seafood Festival in Menai Bridge takes place on Saturday.
Local produce
Jane Davies, project manager with economic enterprise agency Menter Mon, said the festival was intended to raise awareness of "what we have on our doorstep".
She said that FLAG will work on projects that "add value to our local produce and raise awareness of the vital part our coastal communities play in our local economy".
Restaurant owner David Evans, one of the festival organisers, said there was a real need to drive the market for local seafood and to create a link between people and produce.
"We're surrounded by the sea and the food we can get from there is phenomenal, yet many people and businesses still rely on supermarkets where the fish and seafood is often imported," he said.
"North Wales has some of the best seafood but it is not always easy to source, even for businesses. For example there is no fishmonger on the island."
Mr Evans says this has led to a "disconnect between local people and local seafood".
"The problem is partly to do with a lack of delivery mechanisms and processing facilities, and also a lack of retail outlets locally," he added.
He said the festival was seen as a way to boost demand and raise awareness.
"We hope to educate consumers about how to source, prepare and enjoy local fish and seafood.
"This will help drive the market and promote business opportunities for fishing related companies in the area."
Local chef and food writer Denise Baker-McClearn, who will be in the demonstration tent, said it was time to change the mind-set of people who no longer eat seafood.
"It's amazing that so few people eat mussels - it's as if they have got out of the culture of eating seafood," she said.
"In Europe that hasn't happened but here people are suspicious of eating seafood and that needs to change.
"I hope that (after the festival) more local people will eat seafood and not be so scared of it. We have a lot of sea around us but most of the produce currently goes elsewhere."
The Menai Seafood festival is a free event running from 10:00 to 21:00 BST on Saturday.