'Justice' hope over alleged Post Office fraud cases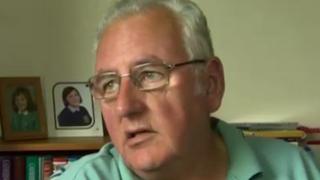 An ex-postmaster hopes a new scheme will "bring justice" for Post Office staff who say they were wrongly accused of theft, fraud and false accounting.
Noel Thomas, from Anglesey, was jailed for false accounting totalling £48,000, but says he never took the money.
Some subpostmasters say they were prosecuted or made to repay shortfalls created in error by computer glitches.
The Post Office says a review showed its Horizon computer system worked, but a mediation scheme has been launched.
The Horizon system records all financial transactions in hundreds of Post Offices and sub-Post Offices around the UK.
Training and support
In recent years, some people have claimed there are problems with the system, which have led to some subpostmasters being accused of theft, fraud or false accounting.
The Justice For Subpostmasters Alliance (JFSA) was launched and about 100 sub-postmasters expressed an interest in suing the Post Office.
Last year, the Post Office asked an independent investigator to examine the alleged problems.
So far, the Post Office says the investigation has not found any evidence of "system-wide" problems with the software, but it did find subpostmasters could have had better training and support.
On Tuesday, it announced an independent mediation scheme to try and bring sides closer together.
Mr Thomas, former subpostmaster at Gaerwen, Anglesey, was jailed for nine months in 2006 for false accounting involving £48,000.
He says he admitted false accounting because he never reported discrepancies he noticed.
However, Mr Thomas says he did not take the money and blames the computer system.
Responding to the new mediation scheme, he said: "I hope it will bring justice, not for myself but for the hundreds of others that have been in the same situation as I have."
He said it was "not about compensation, it's about getting your good name back".
"Yes, compensation if it comes, will help," he added.
"It won't help me so much but it will help my family because we've been through a lot. They've stood by me."
'Commitment'
Asked if he was bitter about treatment by the Post Office, he said: "Yes. After serving them for 42 years, the way they treated you was terrible.
"Not only myself, but when you listen to other people that have been in the same situation, they have just steam-rolled and rolled over you."
The Post Office said the mediation scheme was one of a number of commitments made after an interim report following the independent investigation.
It said the scheme would set up a working group involving itself, the Justice for Subpostmaster's Alliance (JFSA) and independent investigators Second Sight.
Angela van den Bogerd, Post Office head of partnerships, said: "Subpostmasters are the lifeblood of our business and we take their concerns extremely seriously.
"We hope the package of measures we are announcing will demonstrate our commitment to working closely with them to further improve our network."