Conwy council costs query over Llandudno UPVC windows case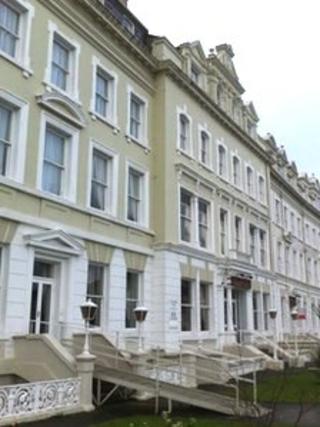 An AM has accused a council of being "heavy handed" over action against a businesswoman's UPVC double glazing in a Victorian seaside town.
Aberconwy AM Janet Finch-Saunders wants to know how much Conwy council spent bringing a case against Cindy Atay.
She was given an absolute discharge by magistrates after the action over her Llandudno properties.
The council said it would consider the assembly member's request once it had received it.
Mrs Atay, 55, appeared before magistrates last week to admit failing to comply within a six-month deadline to an order to replace the windows on three flats in the Victorian resort town.
Her solicitor Richard Williams told court his client and her husband had installed double-glazed UPVC windows on the recommendation of a council employee shortly after buying a series of properties in a conservation area in 2006.
But the council objected and had won a planning inspector's backing for the windows to be replaced with single pane, timber sash windows.
Mr Williams told the court Mrs Atay had been informed that she was being treated as test case.
His client estimated the cost of the windows the council wanted at £70,000 and she did not have the money to comply, he said.
He told magistrates: "This hasn't been a wilful refusal to comply, it's based quite simply on economics."
Despite pleading guilty to the offence, Mrs Atay was given an absolute discharge by the bench "in light of the powerful mitigation" offered.
The magistrates also refused the council request for £235 costs to be awarded against Mrs Atay.
After the court appearance, Mrs Atay, from Penrhyn Bay, said the legal action had cost her £100,000 and "almost ruined" her.
Ms Finch-Saunders, who is also Conservative Shadow Local Government Minister, said she was "delighted" with the magistrates' judgment.
She said: "Heavy-handed enforcement against business people and local residents isn't the way forward.
"It has been almost like the establishment against an individual businesswoman.
"I will be seeking answers about how much Conwy council has spent of taxpayers' money pursuing this individual."
'Singled out'
Mrs Atay's case has attracted support from councillors and neighbours in the town.
Conwy councillor Janet Haworth has previously said that she thought Mrs Atay was being "singled out".
Following the court decision, she said: "I think the council has been sent a message it needs to give some very careful thought to, in the light of this decision."
In a statement after the court case, Conwy council said: "The owner pleaded guilty and was convicted of the criminal offence of failing to comply with an enforcement notice in relation to a Grade II listed building.
"The council's conservation policy is unaffected."