Razor clam action taken at Llanfairfechan beach in Conwy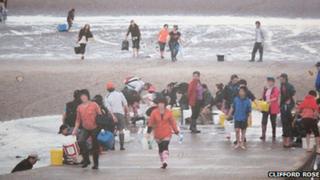 Council officers have seized gathering equipment and razor clams after complaints from local residents about the harvesting of the shellfish on a Conwy beach.
More than 100 people were photographed gathering the clams at Llanfairfechan on Friday morning.
Conwy council said it took action over food safety concerns.
The local assembly member also said she was raising the issue of sustainability with the Welsh government.
Aberconwy's Conservative AM Janet Finch-Saunders said she had been contacted by a concerned constituent who saw the razor clams being harvested.
"Clearly you cannot have industrial harvesting if that is what is taking place," she said.
"Concerns have been raised to me about the actual sustainability of what is going on."
Ms Finch-Saunders said people were entitled to gather up to five kilos as long as the clams were not for commercial consumption.
"From the pictures on Twitter, it is clear people were gathering rather more than that," said the AM.
She is already writing to the Welsh government minister about the matter.
The local authority took action on Friday after receiving the complaints.
In a statement it said it wanted to speak to the gatherers to find out what they were doing with the harvested clams because the beds are not classified for commercial harvesting by the Food Standards Agency FSA).
This means razor clams from the Llanfairfechan site cannot enter the human food chain.
Officers took possession of some of the equipment on the basis they suspected the shellfish were being commercially gathered.
A quantity of razor clams were also confiscated and returned to the beach.
A local business was also visited and some clams were confiscated there.
Councillor Philip Evans, Conwy cabinet member for regulation, said: "Our primary concern is food safety; these razor claims are not classified as safe for human consumption.
"Any food premises which uses, or is offered, such razors should not do so nor accept them."
The council said it is liaising with the FSA and other agencies including Welsh Government Fisheries, the Gangmaster Licensing Authority and Natural Resources Wales.