22 salmonella cases confirmed in Conwy and Gwynedd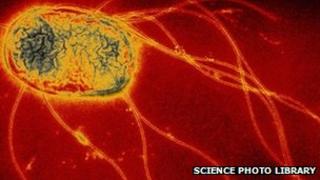 An outbreak of salmonella is being investigated in north west Wales, it has been revealed.
Public Health Wales (PHW) officials have said five of the 22 people, including children, were hospitalised but have since been allowed home.
Environmental Health officers in Conwy and Gwynedd councils and PHW are investigating.
The source of the outbreak, which began in mid July, has not been identified.
Health officials say 22 cases have been confirmed with the same unique strain but have yet to find a common link.
The outbreak does not seem to be easing off, with notifications coming in fairly steadily and not concentrated on one particular town or locality.
Anyone who lives in Conwy and Gwynedd or has visited it since mid-July has been advised to contact their GP if they are experiencing food poisoning symptoms, such as diarrhoea, stomach cramps, vomiting and fever.
Dr Judy Hart, consultant in public health at PHW, said although the illness is unpleasant, those affected should make a full recovery.
"Salmonella is usually contracted by eating food like red and white meats, raw eggs, milk and other dairy products which contain the bacterium, usually following cross-contamination of cooked food by raw food or by failing to ensure food is properly stored and cooked before it's eaten," she said.
"We are working with environmental health officers to investigate the possible cause of the outbreak and will continue to monitor the situation."