Llandudno windows case 'almost ruined' businesswoman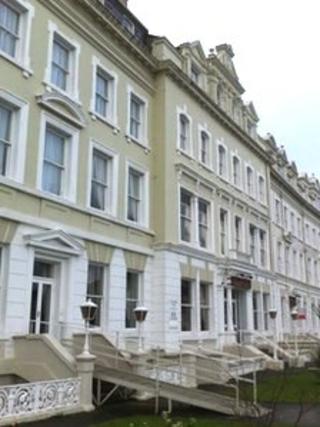 A businesswoman says she has been "almost ruined" by a council test case over UPVC double-glazing.
Cindy Atay, 55, has spent £100,000 since Conwy council objected to the windows in her Llandudno properties.
She admitted not complying with an enforcement notice in a conservation area and faced a fine of £20,000.
But Llandudno magistrates gave her an absolute discharge "in light of the powerful mitigation" and also refused a council request for £235 costs.
The court heard that when Mrs Atay and her husband bought the five flats, a restaurant and bar in 2006, three of the flats had dilapidation orders against them.
Some windows were held together by newspaper and tape.
Defence solicitor Richard Williams told magistrates the couple installed double-glazed UPVC windows on the recommendation of a council employee.
But three weeks later the council sent a letter ordering the removal of the windows.
Mrs Atay, from Penrhyn Bay, estimated the cost of the single pane, timber sash windows the council wanted installed at £70,000.
She was refused planning permission to install double-glazed wooden windows.
The court heard neighbouring properties in Upper Mostyn Street, one of the busiest and noisiest areas of the resort at night, had double-glazed windows.
Mr Williams said Conwy council issued and then withdrew two enforcement notices before making the latest order in January 2012.
Mrs Atay was told the local authority was using her as a test case, the court heard, although the council has previously denied this.
In November 2011, Mrs Atay lost an appeal and was given six months to replace the windows.
Mr Williams said his client admitting breaching the enforcement notices.
'Terrible strain'
He said: "This hasn't been a wilful refusal to comply, it's based quite simply on economics."
His client had the support of some councillors and neighbours, he said.
The solicitor added: "It's a long and very sorry tale. What Mrs Atay would argue is that, perversely, this double-glazing was put in place because of guidance from a local authority employee."
Speaking after the case, Mrs Atay said the legal row had cost her £100,000.
"I can't afford to put in new windows now, it's as simple as that. The council has almost ruined me.
"If the court had fined me £20,000 it would have bankrupted me and put 15 staff out of work.
"It's unfair how the council has singled me out and it has been a terrible strain."
Following the court case, the council said: "The owner pleaded guilty and was convicted of the criminal offence of failing to comply with an enforcement notice in relation to a Grade II listed building.
"The council's conservation policy is unaffected."