Tywyn hospital £5m revamp given go ahead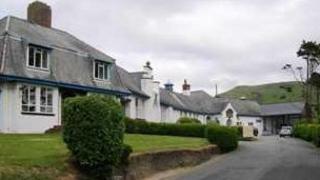 A new 16-bed ward is to be built at a Gwynedd community hospital after the Welsh government pledged over £5m in funding.
Health Minister Mark Drakeford said the work at Tywyn hospital "will bring great benefit to the community".
A patient watchdog has welcomed the investment while health officials say it reaffirms the hospital's importance.
The hospital has been involved a row over a shake-up in health services across north Wales.
Mr Drakeford said: "These are hard times economically, and we have tough spending choices to make.
"However, investment in hospital services continues, and the £5m funding for improvements at Tywyn hospital will bring great benefit to the community.
"An increase in bed numbers and the integration of several services here will enable more people to be cared for closer to home in an environment which is fit for purpose."
Watchdogs from the Betsi Cadwaladr Community Health Council (BCCHC) referred concerns to the minister when Betsi Cadwaladr University Health Board (BCUHB) revealed plans to downgrade some hospitals in north Wales, cutting x-ray services and minor injuries treatment at some locations including Tywyn.
BCCHC was concerned that the rural nature of south Gwynedd would make it difficult for some people to get access to health services if they were moved.
Public subscription
In June, officials from both sides held talks with government officials before agreeing to a revision of opening hours at the hospital's minor injuries unit and x-ray service as well as other issues affecting the area.
"The hospital's location means it has an important role making sure people living in the area have access to local health services," said Neil Bradshaw, the health board's executive director of planning.
"The work that will be taking place will provide better facilities for patients and will help us improve services by bring primary and community care together under one roof."
Tywyn Hospital was built in the 1920s by public subscription with a maternity unit built in 1932.
The work will include the refurbishment of existing buildings, demolition of part of the hospital and a new extension.
A new primary care resource centre will bring together several health services in one place as well as a new 16-bed ward on the site of the existing Dyfi ward.
It is also designed to allow "greater flexibility" so it can provide palliative care, rehabilitation and assessment and take transfers from other hospitals.
The existing ward area will be revamped to house community clinics.