Woman hit by train on Anglesey tells of recovery fight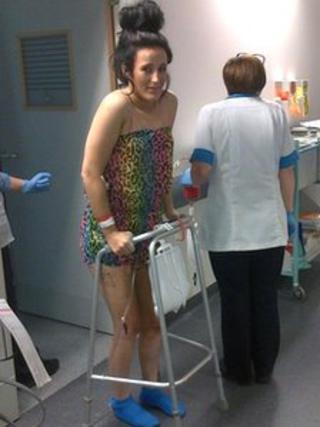 A woman who was hit by a train after she tried to retrieve her handbag from a railway line has described her battle to recover from her horrific injuries.
Kirsty Owen, 22, of Llangefni, Anglesey, suffered severe abdominal injuries, underwent 10 operations and was told she would never walk again.
But five weeks after the collision at Llanfairpwll station in June she has started to take her first steps.
Ms Owen described jumping onto the track after a night out as "madness".
She had hopped off the platform after accidentally dropping her handbag onto the line. It was then that she saw the headlights of the approaching passenger train.
The hairdresser tried to get back onto the platform but was hit by the train as it came into the station.
'So foolish'
Ms Owen, who was alone at the unmanned station, screamed out into the dark which alerted people living nearby.
She was taken to a specialist trauma unit at the University of North Staffordshire in Stoke-on-Trent where doctors said they had never seen anyone still alive with such massive injuries.
They had to give her three litres of blood when she arrived in the hospital.
Ms Owen, who is still in hospital, said: "I still can't believe I'm alive - it's a miracle.
"It is all a blur, I just remember the absolute agony I was in.
"I felt like I was dying. It was the worst moment of my life.
"I'm still in shock, I'm still so frightened of what could have happened."
She added: "It was a stupid thing to do, I can't believe I did something so foolish.
"I was almost sliced in half for the sake of a £20 handbag.
"Every time I look at my scar I know I had a very lucky escape.
"I'm still having nightmares about it - the last thing at night before I go to sleep is that train coming towards me."
Her father Paul Owen, 46, said she faced a "long struggle" ahead.
"But she'll get there, Kirsty is fighting hard to get better," he said.
"I am so proud of her. She's got a long way to go but it's great that she's on her feet again."
British Transport Police believe Ms Owen, who had spent the night with friends celebrating her new job, was hit by the steps leading up to the cab of the locomotive.
A spokesman said: "Trains can approach quietly and when you do hear an approaching train it can be too late to move out of the way.
"It can take up to the length of 20 football pitches for a train to stop."