NFU raises fears of cost of more rural access at Anglesey Show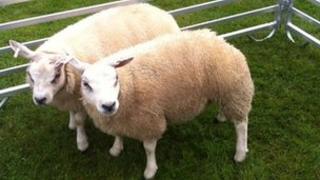 The National Farmers Union (NFU) has warned of the "worst possible outcome" if plans to extend access to the countryside go ahead without more funding.
NFU Cymru president Ed Bailey, speaking at the Anglesey Show, warned it could lead to "unnecessary problems".
Thousands of people are expected at the first day of the annual event at the 160-acre site near Gwalchmai.
The Duke of Cambridge is set to attend the show on Wednesday.
Mr Bailey said 20% of Wales is already open access land but warns about plans to expand it without more money to look after it.
"Poor management of visitors to these areas leads to unnecessary problems for those that farm and manage the land," he said.
"The more access you have, the less funds you have on an acreage basis to properly manage and control access on these areas."
There is now a three month window for people to appeal against the designation of their land to the planning inspectorate.
Mr Bailey warned that appealing against any legislation would not be easy.
"Whilst we encourage members to study the maps on the NRW website and to consider an appeal, the legislative criteria to take land out of the map is extremely difficult and the odds are stacked against owners and occupiers."
Mr Bailey said people needed to be reminded that access to open land was for "quiet enjoyment by individuals on foot".
He added: "Dogs must be kept on a lead around livestock - but let go if chased by cattle - and other activities such as camping, motorised activity and cycling etc are strictly outside what the act allows".
Elsewhere advice and an opportunity to rent a small-holding is being offered to would-be farmers.
Anglesey Council owns 92 farms, covering 6,000 acres, on the island and they say anyone can apply for tenancy.
"There are small number of holdings available from the council and anyone can apply, you need to get your name down on the list," said Councillor Richard Dew, who holds the portfolio which includes the small-holdings.
"Our small-holding estate is important to us because agriculture is important to the island."