Sea rescue off Black Rock after 'record' lifeboat launch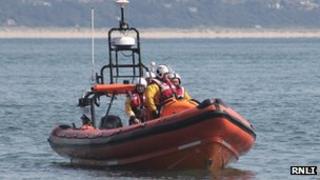 Seven holidaymakers rescued from a rip current while swimming off a Gwynedd beach had a lucky escape says the RNLI.
Criccieth lifeboat - which was holding its annual open day - launched in three minutes to reach the group at Black Rock near Porthmadog on Sunday.
Two groups of people were in trouble including a man and a six-year-old boy.
The RNLI said it was a record launch as the crew were at the station for the open day and that the man and young boy would not have survived long.
Criccieth's Atlantic 85 Doris Joan was on display at the station's open day when the emergency call came in at 14:45 BST on Sunday.
It was launched in three minutes and two groups of people were found in the water.
Volunteer crew member Mark Hobley jumped overboard to support two teenage girls and a teenage boy, while the lifeboat went to the second group nearby.
A spokesman said that group included a middle-aged man who was close to total exhaustion, a six-year-old boy who was being supported on a body board, a teenage girl and a teenage boy.
All were taken on to the lifeboat before it returned to the first group and picked them all up.
Everyone was back on shore nine minutes after the lifeboat was first launched.
The middle aged man was given oxygen and treated for the effects of cold along with the six-year-old boy.
"It was lucky that the crew were present at the station for our open day," said Peter Williams, the Criccieth lifeboat operations manager.
"A normal launch would have taken three or four minutes longer and it may well have been the case that at least two of the group would not have survived that long. It was a job well done."
Meanwhile, coastguards were also involved in the rescue of two kayakers who got into difficulties off the Llyn peninsula.
One of the kayakers had lost a paddle, and both were struggling in strong seas at Porth Ysgaden, near Porth Dinllaen, said Holyhead coastguards.
Porth Dinllaen lifeboat was launched and took both men on board and is bringing them back to shore.