Medieval deer park history revealed at Gwynedd site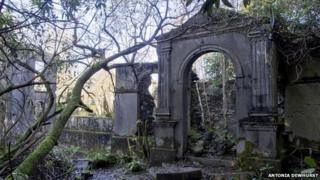 An ancient deer park which medieval princes may have used for hunting has been discovered in Gwynedd, archaeologists have claimed.
They say it is shown in aerial photographs of the Brynkir estate at Dolbenmaen after a dig last year by researchers from Cardiff University.
The royal deer park is thought to date to the reign of Prince Llywelyn the Great in the 13th Century.
Experts and students plan to return in August to carry out more excavations.
Continental influence
They hope further examination of the derelict Plas Brynkir manor house will uncover more details of the area's history.
The archaeologists say they were alerted to the possibility of the hidden deer park by three pieces of evidence.
These included the oval shape of the enclosure, evidence of banks and ditches built up in the area, and the name Brynkir itself, thought to derive from the Welsh translation of "Hill of Deer".
Project leader Mark Baker said: "The former royal deer park of the native Welsh princes, set within a far larger landscape designed for hunting and other sports, illustrates how much there is still to learn about the lives of the princes.
"The park seems to be an egg-shape field, with a narrow area where the deer were tended to, and a wider part into which they were released for hunts.
"This is similar to royal deer parks found elsewhere in Europe, but we already know Llywelyn the Great moved his court to Criccieth around 1230, so it predates the overwhelming influence of Anglo-Norman society on Wales.
"So we're hoping that once we start digging, we'll learn more about how continental Europe influenced Wales before England had a chance to."
Hidden history
Through diplomacy and confrontation Llywelyn the Great - born Llywelyn ap Iorwerth - became the de-facto ruler of much of Wales until his death in 1240.
"We know very well about Llywelyn the Great's formidable reputation as a warrior, but what this find is re-emphasising is that he was also an adept diplomat," added Mr Baker, whose PhD research is being funded by the Society of Architectural Historians of Great Britain.
"A park like this would most likely have been used for entertaining and forging alliances. We're hoping that August's dig will help to tell us more about how, and who they were with."
Uncovering the secrets of the deer park and the medieval history of the Brynkir estate has been a challenge for the researchers, as the manor house was built over the site many years later.
So as part of the new investigations, a geophysical survey will also be carried out, funded by the Gwynedd branch of the Welsh Historic Gardens Trust.
The excavations at Brynkir will continue throughout August, with an open day on 30 August for the public to find out more about any new discoveries.