Colwyn Bay sea defence £2.6m payment scam foiled say council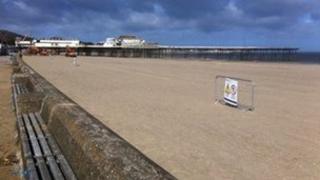 An attempted £2.6m fraud has been foiled by staff at Conwy county borough council.
Officials said it was a type of fraud where a criminal tries to get a payment diverted into his or her own bank account.
The council said the man had claimed he was from contractors working on new sea defences in Colwyn Bay.
Accounting firm KPMG said that so-called "payment diversion" or "mandate fraud" is on the increase.
The man had told the council that the contractor's bank account details had changed, and the council's next payment - of £2.6m - needed to be into a different account.
Council staff asked for the request to be put in writing but became suspicious when an e-mail arrived.
'Alarm bells'
Mike Halstead, the head of audit and procurement at Conwy Council, said: "The alarm bells rang when we examined the letter attached to the e-mail.
"It was on what looked like headed notepaper, with three signatures, but some of the other details were different from the ones on our file.
"As a precaution, we double checked with the company and it soon became clear that this was an attempt at fraud.
"But it didn't stop there. The man rang back the following week to ask where the money was!"
Mr Halstead added it was a "well-documented" style of fraud which the council is used to spotting "but something on this scale is unusual".
"This one was more sophisticated than normal, and would have involved a large amount of taxpayers' money if it had come off," he added.
'Unintended consequence'
Accounting firm KPMG said that so-called "payment diversion" or "mandate fraud" is on the increase.
Priya Giuliani, director in KPMG Forensic, said: "Our analysis shows that most of these scams are directed towards organisations where the relationship between buyer and supplier is in the public domain.
"The cases range in value from just over £30,000 lost by one business in a single transaction to a total of £5m extracted from another.
"In almost all the cases we've seen, fraudsters appear to be making use of openly declared business relationships.
"It's an unintended consequence of public sector organisations' determination to demonstrate transparency in their business dealings."
Mr Halstead added: "I'm grateful to my colleagues who were alert and became suspicious from an early stage.
"We don't know who was behind the attempt or their background but we've passed details to the police."