Bala football club's European 'dream come true'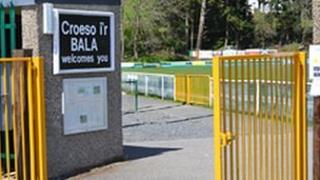 Football fever gripped a small Gwynedd town as its team caused a major shock in its first ever European match.
Bala Town's 1-0 win over Estonian League leaders Levadia Tallinn was a remarkable rise for a team playing parks football 10 years ago.
Supporters remember watching the team playing on a field "surrounded by wire rope".
Bala's stadium did not meet Uefa criteria so the match took place 40 miles (64km) away in Rhyl on Tuesday.
The team's Estonian opponents in the first qualifying round for the Europa League have played in European competitions for the last 15 seasons.
Ahead of the fixture, Bala fans said it was a "dream come true" while the chairman called it is the biggest thing to happen to the club in its 133-year history.
"We're looking forward to it immensely, it'll be a challenge as we've never been in this position before," Ken Edwards told BBC Radio Cymru.
"It's a new competition for us so it's big for the club but also for the town in general."
'Incredible'
Mr Edwards said the club's success meant Bala was a name now recognised across Europe.
"It's a good thing for the whole area. To think how far we've come over the past 10 years when we were playing around Wrexham, and then all of a sudden we've moved up and playing in Europe - it's incredible."
Even though the lack of suitable facilities at the Maes Tegid home ground meant the game was played at Rhyl, the club and its loyal supporters have worked hard over the years on improvements.
A decade ago, the club was playing parks football in the Wrexham area before it won promotion to the second-tier Cymru Alliance in 2004 and the Welsh Premier five years later.
Gwyn Lloyd Jones - known better locally as Gwyn Penucha - has been a life-long fan.
Now in his 50s he says he has followed Bala "ever since I remember".
'Glad to help'
"I've followed them since the time when the field was surrounded by wire rope - although there is a stadium now with more than 500 seats," he said.
"I was one of those who travelled to Highfield Road in Coventry to fetch the seats [the Football League club were moving from their old stadium], then onto Shrewsbury for more.
"A lot of work has gone into the club and I'm glad to say I've been one of those who has helped. Local people have all helped on a voluntary basis."
Fellow fan Nia Jones said the excitement was such that she could not put it into words how she felt.
"I'm looking forward to it so much, it's like a dream come true," she added.
"It's definitely the biggest game the club has had and there's lots of talk in the town about it."