Llyn Padarn: 'Loving Our Lake' project to halt algae return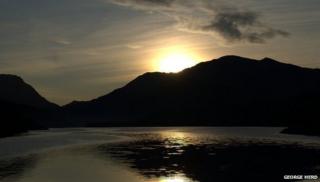 Homeowners and businesses living by a Snowdonia lake are being asked to stop using traditional household cleaners to help prevent the return of toxic algae.
Llyn Padarn in Llanberis has been blighted by the blue-green algae in the past - turning into a "no-go area" for tourists and wildlife.
One business owner said the last major outbreak cost him £32,000 alone and he was forced to cut his workforce.
The "Loving Our Lake" project hopes it could help prevent the algae's return.
The lake is not just a picture-postcard tourist destination, it is a site of special scientific interest and one of the few natural homes in Britain to the rare Arctic char fish - a relative of the salmon.
The threat posed by the algae prompted conservationists to mount a rescue operation to protect the fish - known as Torgoch in Welsh - and breed another population in a remote Conwy Valley lake.
The blame for the blooms of poisonous algae has been laid squarely on the nutrients entering the lake, some from sewage discharges, some from leaking septic tanks, and finally, some from the chemicals in water flushed down the drains by village residents.
Dr Emma Edwards-Jones said the main culprit is the chemical phosphorous - one of the prominent cleaning agents still used in dishwashing powders, tablets and liquids.
"If you get a certain set of conditions, which is whereby it's warm weather, there's not a lot of rain coming into the system and you get some nutrients into the system - the algae can multiple dramatically," she explained.
"They form a thick blue-green scum on the surface of the water, and then they run out of food and they start to die. As they die, they use up the oxygen in the water and that causes a problem for the fish and wildlife in the system.
"They also produce toxic chemicals, which means it is unsafe for animals and people to go into the water and to drink the water."
The issue of sewage discharges and Llanberis' water treatment plant is being addressed by a £15m investment in upgrading facilities by Dwr Cymru Welsh Water.
But removing phosphorous chemicals already diluted in household and commercial drain water is an even tougher challenge.
Cheaper
Dr Edwards-Jones, who runs the Loving Our Lake project, said: "We are asking local residents to change to an eco-friendly product, and we are also working with the businesses in Llanberis,.
"Many of them are tourism businesses who have commercial dishwashers that are running continually, many times throughout the day, putting lots of chemicals into the system," said Dr Edwards-Jones from the social enterprise group, Snowdonia-Active.
Businesses like Gallt y Glyn, a hotel and restaurant overlooking the shores of Llyn Padarn, where owner Heidi Petch-Jones was persuaded to switch cleaning products.
"The lake is very, very important for tourism. It's important for local people and for the area. If we destroy what's going on in the lake then tourists aren't going to come here and we are not going to have a business to run," she said.
"We were asked to see if we would change our dishwashing products because we have a commercial dishwasher.
"Making a minor change, which is much cheaper than the products we were using before, it's not really going to give a disservice to our own business.
"Everything is nice and shiny and squeaky clean, so we can't complain."
As part of the project, the hotel is now one of six businesses that have signed up to a Loving Our Lake pledge - promising to ensure its activities do not harm Llyn Padarn - and in turn the village, and a tourism industry that is worth an estimated £400m a year to the Snowdonia National Park.