Barmouth Bridge in Gwynedd toll-free as staff leave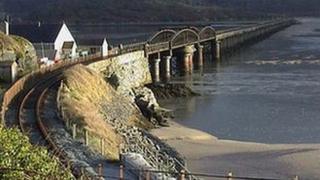 Cyclists and walkers using an historic bridge in Gwynedd can cross it free after the toll collectors left and were not replaced.
But taxpayers face a £23,000 bill for part of the upkeep of the footbridge next to Barmouth railway viaduct, which crosses the Mawddach estuary.
In a report to Gwynedd council's cabinet, councillors are asked to consider other ways to raise the money.
It said it was not cost effective to pay people to collect the 90p toll.
The council has to pay Network Rail, the owners of the largely wooden bridge, £39,405 each year for a licence to allow walkers, cyclists and motorcyclists to use it.
This contributes towards the maintenance of the Grade II listed structure, which dates back to 1867.
The bridge runs between Morfa Mawddach near Arthog and Barmouth, is used by the Cambrian Railway Line, but is part of a scenic route for cyclists and walkers.
Until April of this year, a married couple who lived in a toll house next to the viaduct were employed by the council to collect the tolls from Easter to September.
But after they left their posts, they have not been replaced and the council cabinet is now being asked to consider abolishing the tolls and look into new ways to fund the 900m long bridge, which is a tourist attraction and of local importance.
This has left the local authority facing a £23,000 deficit this year - the shortfall between what is allocated in the council's budget and the total money which Network Rail requires.
The report, which cabinet members will consider at a meeting in Caernarfon on Tuesday, says: "The path is located in a very scenic part of Gwynedd's coast; it crosses Morfa Mawddach on a bridge of historical relevance.
"The path is of national importance as part of the Wales Coastal Path and part of the National Cycle Route linking north to south Wales since 1996."
It says the council could consider other ways to collect the money, such as seeking contributions from sustainable transport charity Sustrans, Natural Resources Wales, town and community councils and Snowdonia National Park.
If it is decided that the tolls should continue, the report says the council could look for for help from local businesses or the voluntary sector.
Until a decision is reached, the report recommends that no tolls are charged for the use of the bridge.
Plans for its future are expected to be in place by around April next year.