Colwyn Bay Pier lottery grant boosts restoration plans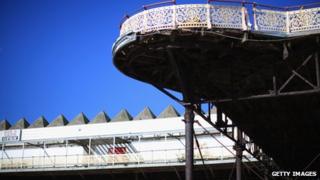 Plans to restore a Grade II listed pier in north Wales have been boosted with a heritage lottery grant of nearly £600,000.
The money will be used by Conwy council to develop plans to restore Victoria Pier in Colwyn Bay to its former glory.
It is part of a wider £56m regeneration scheme in the town.
Ownership of the pier has been in dispute with a former owner fighting to get it back from the council.
The Heritage Lottery Fund (HLF) grant announced on Friday will be used to develop plans including a restoration of the pier's Art Deco pavilion.
In its heyday the pavilion hosted performances ranging from comedians Morecambe and Wise and Harry Secombe to musician Elvis Costello.
Community support
It has been closed to the public since 2008 and is described as being in a "critical condition".
Manon Williams, chair of HLF in Wales, said: "The pier not only sits in the heart of Colwyn Bay but also holds a prominent position in the resort's history and that of Welsh seaside architecture.
"The project, which is integral to the regeneration of Colwyn Bay, has strong support from the community with significant opportunities for job creation, training and volunteering and would provide a significant boost for the local economy."
The grant of £594,900 will also allow the council to apply for more funding from HLF in order to bid for the full award of £4,379,600 to complete the scheme.
Councillor Mike Priestley, chair of the Pier Project Board, said the support of HLF was a "major step forward for the future of the pier and the potential it has to contribute to the regeneration of Colwyn Bay waterfront and the wider community".
If the second round of grant applications is successful Conwy council plans to hand over the management of the restored pier to a community company called Colwyn Bay Shore Thing Ltd.
It is hoped that project will then attract a team of 100 volunteers to take part in the management of the pier.
Earlier this month the High Court ordered a fresh hearing to determine who owns the pier as former owner Steve Hunt fights to win it back.
He previously owned the pier but was made bankrupt in 2008.
It followed a dispute over £5,144.88 in unpaid council tax and business rates.
Mr Hunt insists the pier should be returned to him as it was not sold off to pay the debts.