Ambulance takes five hours to get pregnant woman to hospital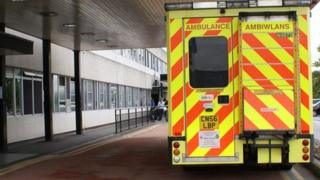 A 39-year-old pregnant woman from Gwynedd who dialled 999 says it took more than five hours to get her to hospital due to ambulance problems.
Melanie Webb, from Dyffryn Ardudwy, was 15-weeks pregnant and had a history of miscarriages when she fell ill.
Despite a paramedic initially responding within an hour of the first call at 18:00 BST, she did not arrive at hospital in Bangor until 23:15.
The Welsh Ambulance Service said it is investigating her case.
Mrs Webb, who is a mother-of-two, said her treatment was "shambolic".
She called the emergency services after an out-of-hours triage nurse told her to dial 999 when she developed sharp chest pains.
'Pointless exercise'
An ambulance arrived about 45 minutes later, with one paramedic. The ambulance officer told Mrs Webb that he could not take her to hospital, as there had to be two members of staff crewing the vehicle.
A relief ambulance team was called in, but it was almost 21:00 BST before the ambulance arrived at the farm where Mrs Webb lives.
"I cannot comprehend why an ambulance is being run with one member of staff on duty," said Mrs Webb.
"It seems a pointless exercise and is putting peoples lives at risk.
"Both ambulance crews could not comprehend why the air ambulance had not been called when I live in such a remote place.
"Things have to change immediately."
A spokesperson for the Welsh Ambulance Service NHS Trust said: "We are currently looking into the details surrounding this incident."