Wylfa: Anglesey nuclear reactor 'could run until 2015'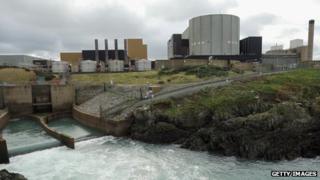 The planned shut down of Britain's oldest nuclear reactor on Anglesey could be extended by 15 months if safety inspectors approve the work, says its operator.
The Wylfa reactor 1 was expected to stop producing power in 2014, but it could continue until December 2015.
Magnox said it wanted to ensure it maximised any electricity generating potential in the remaining fuel.
The plans are subject to Periodic Safety Review (PSR) approval.
The 490-megawatt reactor has been operating for 42 years.
Reviews are carried out by nuclear site licence holders every 10 years to establish whether reactors are safe to run and these are monitored by Britain's nuclear regulator.
Reactor 2 at the same nuclear plant was shut down for good last year.
A Magnox spokesman said: "Operations at Wylfa, by transferring fuel from reactor 2 which has shut-down to reactor 1 which is operational, are going well.
"As a precaution, in the event that there are any delays to the current defueling schedule, Magnox are making preparations to extend the generating period for the station to ensure we maximise any electricity generating potential in the remaining fuel.
New power stations
"To extend the end of generation date to December 2015, we will need to submit a periodic safety review, gain consent from our regulator, the Office for Nuclear Regulation, and secure approval from the site's owner the Nuclear Decommissioning Authority and the (UK) government's Department for Energy and Climate Change."
A site adjacent to the existing power plant is earmarked for the construction of a new nuclear power station.
Japan's Hitachi, which last year bought Horizon that has a licence to build new reactors at Wylfa, plans to build two to three reactors at Wylfa and another two to three at a site in Oldbury near Bristol.