Llandudno bridge overspend: Council says 'lessons learned'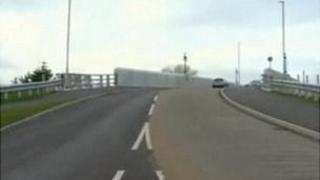 Conwy council says "lessons have been learned" after a bridge rebuilding project in Llandudno went £1m over budget.
The bill for the Maesdu bridge topped £4m, but the estimate was £2.9m.
It carries one of the main roads into the town and reopened in September 2010 after a complete rebuild.
A report to councillors said there had been failures in the management of the scheme, but the overall cost was "not unreasonable" for a scheme of its size.
Internal and external auditors' reports published last year outlined improvements needed in financial control, project management and contract management as projected costs rose during the construction work.
The report discussed by Conwy's principal scrutiny and overview committee on Monday said issues had now been addressed.
Its conclusion said: "As previously reported there have been failures in the management of the scheme.
"However, with the possible exception of the design fees, the overall cost of the project is not unreasonable for a scheme of this size and complexity."
Geraint Edwards, the council's head of environment, roads and facilities, told the committee there were "many reasons" for the overspend.
He said: "The original estimate was inadequate, it doesn't seem possible you could build a bridge for that.
"Specific items were not included in the estimate and managers delegated an extremely complex project to inexperienced staff with insufficient supervision."
Conwy councillors had previously been told that when the original cost of the bridge was being calculated, the cost of diverting water pipes, electricity cables and telephone lines was not taken into account.
But Mr Edwards said that the designers denied overcharging and the contract meant that they were entitled to claim the money.
Attempts by the council to negotiate any money back had failed.
'Frightening'
The meeting was told design costs for the bridge were £680,000, which Mr Edwards considered "excessive in relation to the scope and value of the scheme".
Mike Priestley, a Lib Dem councillor who is Conwy cabinet member in charge of highways, said: "Lessons have been learned. What I've seen in the council since then does give me confidence."
"We have managed to deliver other big projects on time and on budget since then, such as Porth Eirias [the new watersports facility] in Colwyn Bay, and a new cycle bridge at Conwy Morfa."
But Paul Roberts from the Conservative opposition said: "I find the lack of management and skills in this project incredibly frightening, and I'm sure the public does.
"Not one person has held up their hands and said it's their fault."
Independent councillor Dave Cowans said: "I think we have got value for money for that bridge. It's provided a vital transport link for the economy of Conwy."