Bangor: Pontio Yma ac Acw (Here and There) celebration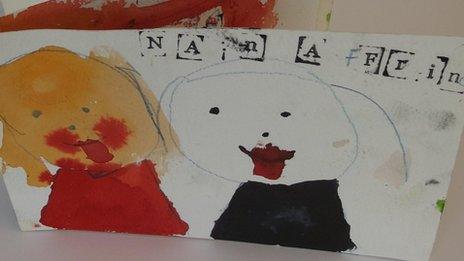 Wartime experiences and life as a child in Bolivia are among the stories that form part of a multi-cultural arts project starting in Bangor.
People have swapped stories for Pontio Yma ac Acw (Here and There) which celebrates the Gwynedd city's different ethnic communities.
It is based on the theme of When We Were Young and about 150 children and adults have taken part.
The project opens on Monday at Pontio's shop on High Street in Bangor.
Author Angharad Tomos and the young people's laureate for Wales Martin Daws have been involved, along with locals and those who have moved to the city from abroad or other parts of the UK.
Local community artists were also used to find ways of using different art forms to explore some of the stories, through creative writing, poetry, music, song and visual art.
Project leader Pauline Down said: "It is a community arts project that has been bringing together primary school children, older Bangor residents and those from other areas who have moved to the city, including people originally from Bolivia, China, Bangladesh and Iraq.
"They've been exchanging stories based on a theme of When We Were Young and about 90 children took part and more than 50 adults.
"One story recounts a woman's childhood living in a mining family in Bolivia and she explains how in the evening they would watch condors.
"In another story, a Bangor woman recalls her life as a child buying scraps of cake and sweets. She remembers a World War II Italian prisoner of war camp on Bangor beach and how the girls were pleased when American soldiers came to the area.
"She went onto to say that after the war homes were destroyed in Hirael (in Bangor) and were replaced by flats and how they looked liked prisons.
"This inspired some children to write a rap poem called Life about the good and bad in people's lives."
Pontio arts development officer Dyfan Roberts said Bangor had a wealth of different communities and stories to tell.
"This exhibition celebrates the creative work that has come out of this inter-generational and inter-cultural exchange," he said.
Pontio has been working in the community, and organising events at a number of venues in Bangor as work progresses to develop a new £44m arts and innovation centre in the city.
In January, the foundation stone was laid for the project - also called Pontio - which will house a new theatre, cinema, restaurant, bars, student union and teaching and learning spaces.
The Bangor University-led centre, which will be open to the community, is likely to be ready by 2014.
Related Internet Links
The BBC is not responsible for the content of external sites.