Blind Veterans UK Llandudno care centre officially opens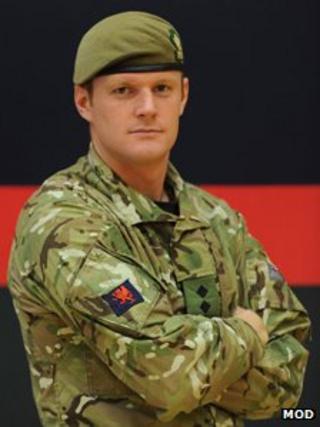 A rehabilitation centre for blind and visually impaired service personnel has been officially opened by the head of the British Armed Forces.
The Blind Veterans UK centre in Llandudno, Conwy, includes a training flat for those adapting to change.
A dedication ceremony was also held in memory of the late Capt Stephen Healey, 29, who was a supporter of the charity.
General Sir David Richards, chief of the defence staff, conducted the opening ceremony.
Capt Healey, from Cardiff, was killed by a roadside bomb in Afghanistan in 2011.
As a member of the 1st Battalion, The Royal Welsh (Royal Welch Fusiliers), Capt Healey organised a fundraising walk with comrades wearing blindfolds from their barracks in Chester to Llandudno.
A plaque was unveiled in his memory by parents, John and Kerry Healey.
Capt Healey, a former Swansea City footballer before signing up, was commanding his platoon from a lead vehicle when it ran over and detonated an Improvised Explosive Device (IED) in May 2011.
Capt Healey's partner, Thea Davies, and members of The Royal Welsh also attended.
Ms Davies said Capt Healey had visited the centre, raising funds to help as a colleague's sight had been affected while serving in the forces.
"I remember him telling me about it and how amazing he thought the place was and that he was more determined to raise more money," she said.
The general conducted the official opening ceremony at the £12m centre which opened in 2011 at Queens Road.
It includes 40 en suite bedrooms, two training kitchens, IT training rooms, and an arts and craft workshop.
Blind Veterans UK gives support to blind and vision impaired former servicemen and women, regardless of when or how their sight was affected.