Anglesey jobs: Chicken factory consults over new shift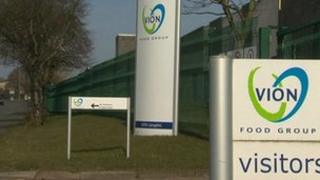 An union has welcomed the possibility of up to 300 new jobs being created at a chicken processing plant on Anglesey.
2 Sisters Food Group has begun consultations with the trade union Unite over the creation of a second shift at its Llangefni site.
It could double the workforce at the old Welsh Country Foods abattoir which the company bought from Vion in March.
Around 300 workers lost their jobs when a Vion plant at Gaerwen on Anglesey closed earlier this month.
"From the meetings we've had about the two new shifts there is the potential for 200-300 new jobs," said Paddy McNaught, Wales regional officer for Unite.
"I am very confident that this will go ahead, because after the horsemeat scandal big supermarkets are buying meat locally in the UK."
Mr McNaught said a "big order" from one supermarket was behind the need for a second shift at Llangefni where around 300 people currently work.
"It's really, really positive news because we are desperate for jobs on Anglesey.
"It's positive news and we are keen to work with the company," he added.
Nearly 3,000 jobs were safeguarded at three poultry and meat processing plants in Wales after the buyout of Vion plants by the 2 Sisters Group.
The Birmingham-based company said the purchase of Vion would help the company meet growing demand.
Andrew Hanson of the 2 Sisters Food Group confirmed that a consultation period will start within the week about creating a second shift at the chicken abattoir in the town.
But he told BBC Wales he remained cautious about job creation, and that potentially up to 300 jobs could be created "some years down the line".
The company is still making losses every year, and there was plenty to discuss with the unions in terms of the new shift, he said.
However, he added that 2 Sisters was a growing company, and they were in a "positive mood" on entering negotiations.