Open verdict on fisherman Steven Robertson from Dalbeattie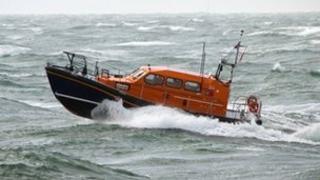 An inquest jury has returned an open verdict on a Scottish fisherman who fell overboard in Caernarfon Bay.
The inquest at Llangefni, Anglesey, heard that Steven Robertson, 25, was possibly relieving himself when he fell in the early hours of 13 January, 2012.
The inquest heard the dredger's original toilet had been removed and there was only a bucket, and the jury endorsed a critical safety report.
The body of Mr Robertson, from Dalbeattie, was never found.
The inquest jury endorsed a critical safety report by the Maritime Accident Investigation Branch, in particular urging that the current policy of reviewing and deleting exemptions granted to old fishing vessels should be applied robustly.
The inquest heard the four-man crew used to relieve themselves over the side of the 58ft (17.7m) boat, which was built in 1974, and the bulwark and rail were lower than the recommended height.
Life jackets were not worn by the crew and there were no harnesses or personal beacons, the jury heard.
Coroner Dewi Pritchard-Jones said there were weaknesses concerning the vessel going back to a survey in 2002, which did not seem to have been acted upon.
The tragedy happened when the Kirkcudbright-based St Amant left Holyhead late at night, heading for Cardigan Bay.
The jury found that Mr Robertson died from an unascertained injury.